Here you will find details of what the club has been up to over the last few months
JACK PETCHEY AWARD - UPDATE
George Cosby, our spring award winner, decided to spend the award on providing a free judo book (50 throws and holds) for each full member of the club who attends either the Wednesday or Saturday sessions. The club provided the difference to ensure sufficient books not only for current members, but also for those Little Dragons due to move up over the next few months. The club would also like to thank Nicola Fairbrother MBE and ' Koka Kids' for managing the order. The picture shows some of the members getting their books. Happy reading and good luck in turning theory into practice.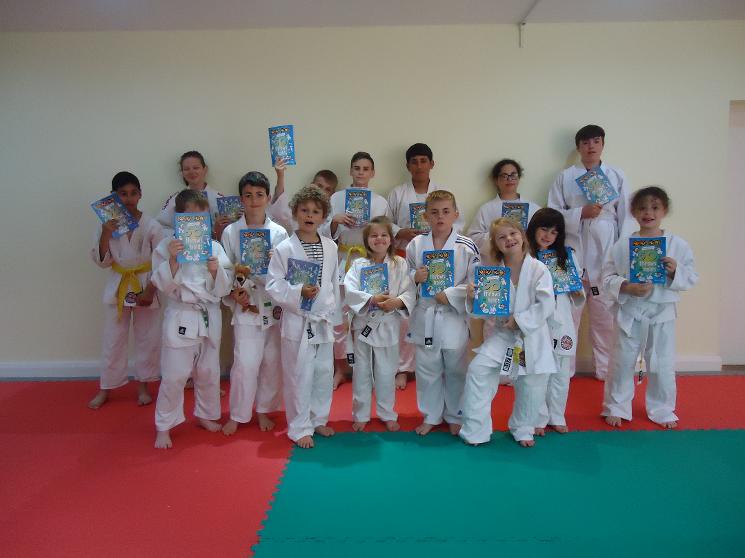 21 JULY 2018 INTRA-CLUB COMPETITION
This was well attended given it was so close to the summer holidays. We have already set dates for the next two which will be the week before the schools break up. More details will appear on the home page nearer the time. It was good to see 8 students from our satellite (school) groups attend. There was plenty of good judo and everyone seemed to enjoy it. Well done to all who took part as it is takes courage to take part and you all should be proud of yourselves for getting on the mat. Roll on the next one.
22 JULY 2018 - 2nd ANNUAL BBQ.
This was held, thanks to the Macey Mitchell clan at the same venue as last year. Everyone made good use of the hot weather by running themselves ragged in the heat, especially the football match at the end. Again this was well attended and we look forward to next years plan. Pictures to follow.